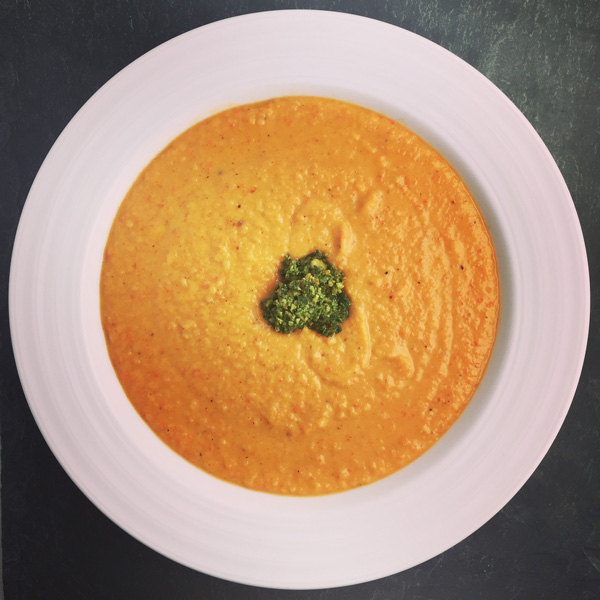 I had a version of this  Thai coconut sweet potato soup the other day from a restaurant and it was good, but a little boring. I liked what they were trying to do so I figured I would give it a shot. The one thing I didn't like about their version was that it was pureed too much, almost like baby food, probably in a blender. So, I opted for the food processor and changed things up with the ingredients to suit my taste. Try this out or change it up to your taste… Enjoy!

Thai Coconut Sweet Potato Soup w/ Cilantro Peanut Pesto
Easy and delicious Vegan soup packed with flavor. Don't puree too much!
Ingredients:
2 Sweet Potatoes, peeled and rough chopped
1 Large Onion, diced
3 Carrots, diced
2 Stalks Celery, diced
2 Leeks, white parts only, sliced
2 Garlic Cloves, minced
1 T. Fresh Ginger, minced
1 Stalk of Lemongrass, lightly smashed with hand
1 or 2 cans of Coconut Milk, depending on your taste
1 small can of Veg Stock
1 Thai Red Chili, Minced (optional) or Thai Red Chili Paste
1 T. Coriander Seed, smashed with Mortar & Pestle
1 T. Black Peppercorns, smashed with Coriander Seed
Salt to Taste
1 T. Coconut Oil, for roasting sweet potato
1 Lime, squeezed
1 T. Soy Sauce
1 T. Honey
Method:
Preheat oven to 375°
Toss sweet potato with coconut oil, smashed coriander and peppercorns, and salt. Roast for 30 to 45 mins. or until tender.
Toss rest of ingredients (except lime, soy sauce, and honey) in a pot and simmer until sweet potatoes are done.
When sweet potatoes are done, take lemongrass out of the pot and discard. Toss the sweet potatoes in and puree with a stick blender or with a food processor.
Adjust seasoning to taste. Too thick? add more coconut milk or veg stock. Add lime juice, soy sauce, and honey now and adjust to taste.
Top with a spoon of Cilantro Peanut Pesto (recipe to follow) and Enjoy!
Cilantro Peanut Pesto
Delicious on top of Thai Coconut Sweet Potato Soup or Pad Thai Noodles
Ingredients:
1 bunch of Cilantro, most of the stems removed
Handful of Roasted Peanuts
2 T. Peanut Oil
1 Lime, Squeezed
Salt to taste
Method:
Toss the cilantro, oil, and peanuts in the food processor and pulse lightly.
Add lime juice and salt to taste