Big news!
After seeing many disappointed faces and reading through emails asking the one big question- "Why isn't the magazine available on Android?" At long last, the day is finally here…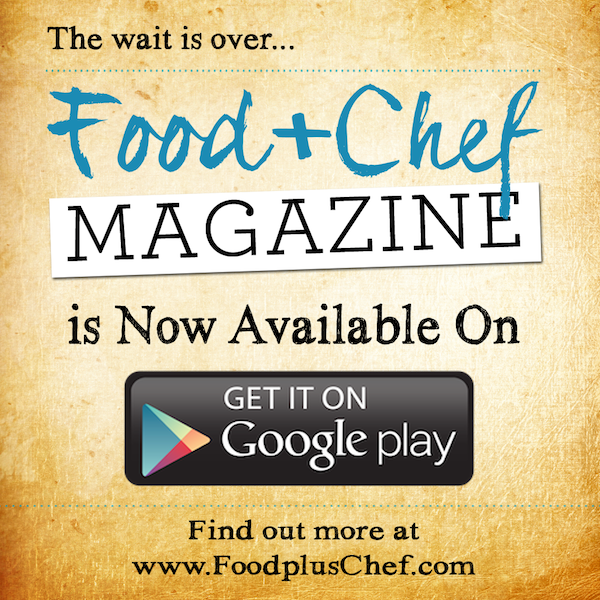 Yes, that's right… Food + Chef Magazine is now available for Android users on Google Play! Check it out here- Food + Chef Magazine on Google Play
Being on a totally new platform means that the app is starting at a zero ranking.
I Need Your Help!
5 star ratings and reviews make all the difference in the world on the Google Play app store. Please give a 5 star ranking and/or a review of the magazine on the Google Play app store after you download the app here- Food + Chef Magazine on Google Play
Bonus– As a way of saying thanks for the rating and so you can check out the mag, here is a free one month trial code-

1 Month Free Trial Code -> freepreview
How to enter the code: After installing app and opening it up, you will see a big yellow subscribe button in the top right corner- click that. Then click the "current subscribers" button and enter in the code freepreview
That's it!
For Apple users- the bonus code is the same and of course, I would really appreciate your 5 star ranking and/or review 🙂 Here's the link- Food + Chef Magazine on Apple Newsstand
Oh and I almost forgot this bit of news… There is a new text version of the magazine for iPhone and Android phone users! This means that if you're reading the magazine a small device like a phone, the magazine will be MUCH easier to read now. All of the fancy layout and graphic work has been stripped out to make it easier to read… zooming in and out was not very fun for you iPhone readers!
There is nothing you have to do to activate this. It is set by default to which device you are using. Although, you can switch between the full version and the text version by holding down your finger on the screen to bring up the nav menu.
I would love your feedback. foodpluschef@gmail.com or let me know in the comment section.
Happy days,
Kevin
p.s. Issue 10 is now live!