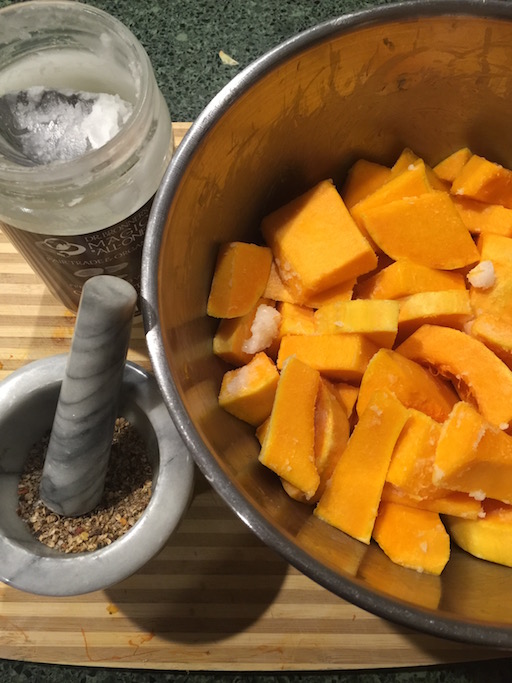 Listen, I know you're tired… probably hungover too. The holiday season is in full swing and with shopping, holiday parties, Jedi training, and gift wrapping, who has time to cook? Well, make some time! Remember you're reading a food blog… Ain't nobody got time to listen to you whine!
This is definitely my favorite way to eat butternut squash and it's really simple to do. Mix up a simple green salad and you have yourself a delicious, healthy dinner and leftovers for lunch the next day too.
As I was bashing up the spices for this my wife made a suggestion to use coconut oil instead of olive oil. I'm telling you it was the most brilliant thing she has ever said. 😉 The coconut oil adds such a nice and unexpected flavor. It will blow you away.
You could use any variation of spices you want on this. I chose coriander seed, cumin seed, crushed red pepper, black peppercorns, and salt. Using whole spices and bashing them up in the mortar and pestle is a step I definitely suggest if possible. Don't have a mortar and pestle? Get one! You could also use a meat mallet on a board or the bottom of a frying pan to crush the spices as well.
Roasted Spiced Butternut Squash w/ Coconut Oil
Use coconut oil if at all possible. You can substitute any spices you wish, but this variation adds a really nice flavor and kick.
Cuisine:
Vegetables, Vegan
Ingredients:
1 Butternut Squash, peeled and cubed
2 T. Coconut Oil
1 t. Whole Coriander Seeds
1 t. Whole Cumin Seeds
1 t. Whole Black Peppercorns
½ t. Crushed Red Pepper
1 T. Kosher Salt
Method:
Preheat oven to 400º
Peel and cube the butternut squash. Place in a large mixing bowl.
Add 2 Tablespoons of coconut oil (warm up if needed to spread more evenly)
In a mortar and pestle bash up all the spices and add to squash bowl
Mix thoroughly with hands to make sure the spices and coconut oil is distributed evenly over all the squash
Roast for 30-45 mins or until done