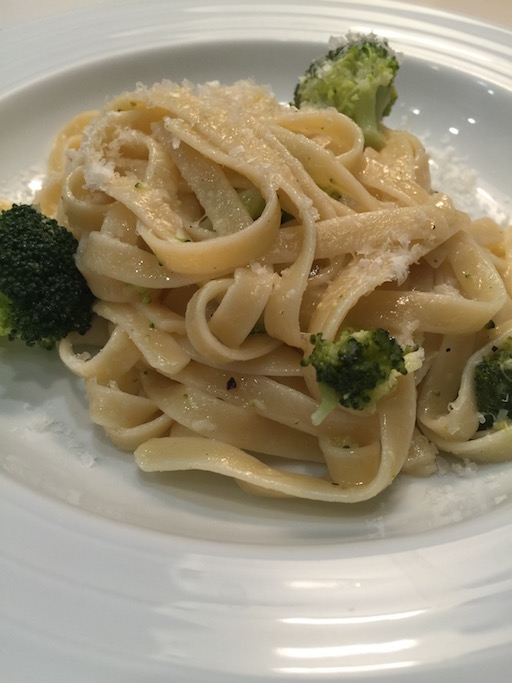 Sometimes simple is just better. I spend a lot of time in my own brain thinking about different recipes and ideas for food. It gets exhausting at times and in those times, I just need something simple, fresh, and delicious to cook and eat. Fettuccine with _____ fill in the blank with whatever and I'm usually in a happy place. This is one of my go-to recipes in those times.
An important note about this recipe that I need you to not skip! Make sure you reserve some of the pasta cooking water. It is starchy and perfect to bring the lemon butter sauce together.

Fettuccine w/ Broccoli & Fresh Lemon
Simple and delicious. Don't forget to use the reserved pasta cooking water!
Ingredients:
1 lb. fettuccine, dried or fresh
3 C. broccoli florets
zest of 1 lemon
juice of 1 lemon
8 T. unsalted butter (1 stick)
1 C. Parmigiano-Reggiano, grated
Salt to taste
1 C. reserved pasta cooking water
Method:
In a large pot of salted boiling water- Cook the fettuccine. When just about done, scoop out 1 cup of the water and reserve.
Add the broccoli to the pot and cook for an additional 3 minutes (you can cook the broccoli separately, but we are trying to make this easy, right?!)
Drain the pasta and broccoli. Add the butter, lemon juice, and lemon zest to the pot. melt
add the pasta and broccoli to the butter lemon mixture and toss to coat.
Add the reserved pasta water until the consistency is creamy.
Add the grated Parm and season to taste with Salt. Enjoy!