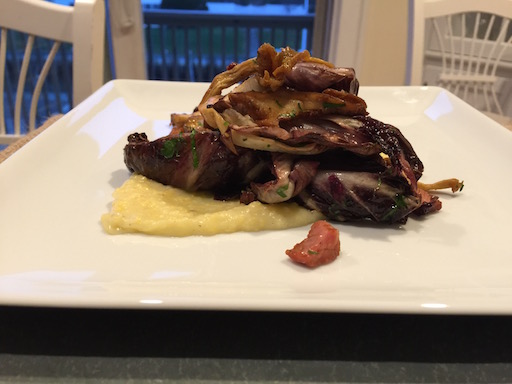 I did a little recipe testing today. To be honest, it was an absolute blast. Took a drive to the local farmers market and bought some Mushrooms and Brussel Sprouts (recipe to follow for Brussel sprouts). Sadly, they are closing up for the season tomorrow, but everything was 1/2 price. The quality was still the absolute best.
I stopped at the local market for the other ingredients and imagined how I might combine everything. Funny thing I realized about myself and maybe it's true with others… I don't know… Once I started cooking and was able to focus on what I was doing, I started changing things as I was tasting. Creating a dish is much different than cooking a dish at a restaurant. Most of my life I've spent on the line making that dish taste like it did the previous one. Consistency was the main objective. And there is something to be said for that… it is an insanely difficult thing to do dish after dish with all the obstacles that get thrown in your way each night (most diners will never understand the struggle! lol).
This kind of cooking I am doing for all of you is much different than my usual practice. I'm not cooking to feed myself or family at dinner time or cooking for restaurant guests for $$. I'm cooking out of pure creativity and enjoyment. Something I've realized, I'm sad to say, I've done too little of in my life. I'm beyond excited at what is ahead for this blog and myself… I hope you see the passion and creativity. This is the best way I know how to express myself and what I feel. I hope it translates in the recipe that follows and you have as much fun as I had tonight making this dish.
Put on some good tunes, pour yourself a nice beer or wine, and cook from your heart. This recipe and almost everyone that will follow are meant to be used as a guideline… make it your own.

Creamy Polenta w/ Wild Mushrooms, Roasted Radicchio, & Pancetta
Very long cooked polenta with loads of butter and Parmigiano Reggiano cheese. Topped with a warm salad of Roasted Radicchio, Wild Mushrooms, Pancetta, Lemon & herbs.
Ingredients:
Salad:
6 oz. Wild Mushrooms (any will do... shiitake, crimini, lobster, chanterelles, etc...) sliced thick
3 oz. Pancetta, diced
2 each Radicchio, cut in eights from the stem
½ lemon, juiced
3 Thyme sprigs, stripped from stem and chopped fine (substitute tarragon, sage, rosemary, or whatever you have on hand)
15 leaves of flat parsley, Chiffonade
1 T. Extra Virgin Olive Oil
Salt and Pepper to taste
Polenta:
1 C. Coarse Cornmeal (not the instant polenta please!)
Water, I don't give exact measurements because you will have to give your polenta a little love and attention. Start with 2 cups. Watch it change and tell you when it needs more water.
4 T. unsalted butter (if you can find local, get that)
Parmigiano Reggiano, wedge... grate to taste
Method:
Boil 2 cups of water in a medium sized pot and in a kettle or separate pot boil another 8 cups or so (this will be used to add to polenta)
Add polenta to boiling water and whisk thoroughly. Keep whisking for another 5 minutes or so. Drop heat to low and cook for another 3 hours. Stirring occasionally and adding boiling water as needed.
When done and has a consistency of oatmeal, turn off heat. Add butter and Parmigiano Reggiano cheese to taste.
While polenta is cooking-
preheat oven to 400ºF
Heat mid sized skillet to hot. Add diced pancetta and lower heat. Brown and render and remove with slotted spoon to paper towel to drain.
Add mushrooms to pan with pancetta fat. Pan roast a handful at a time and drain on paper towels.
Drizzle radicchio with olive oil, salt and pepper and roast in 400ºF for 25 mins
When radicchio and mushrooms are cooked, place in a large mixing bowl. Add chopped thyme and parsley, lemon juice and extra virgin olive oil. Salt and pepper to taste.
Spoon out a heaping portion of polenta on a plate and top with the warm mushroom and radicchio salad. Grate extra Parm cheese over the top,. Eat and smile.